NOUS 9 - The Home Issue
£

8.00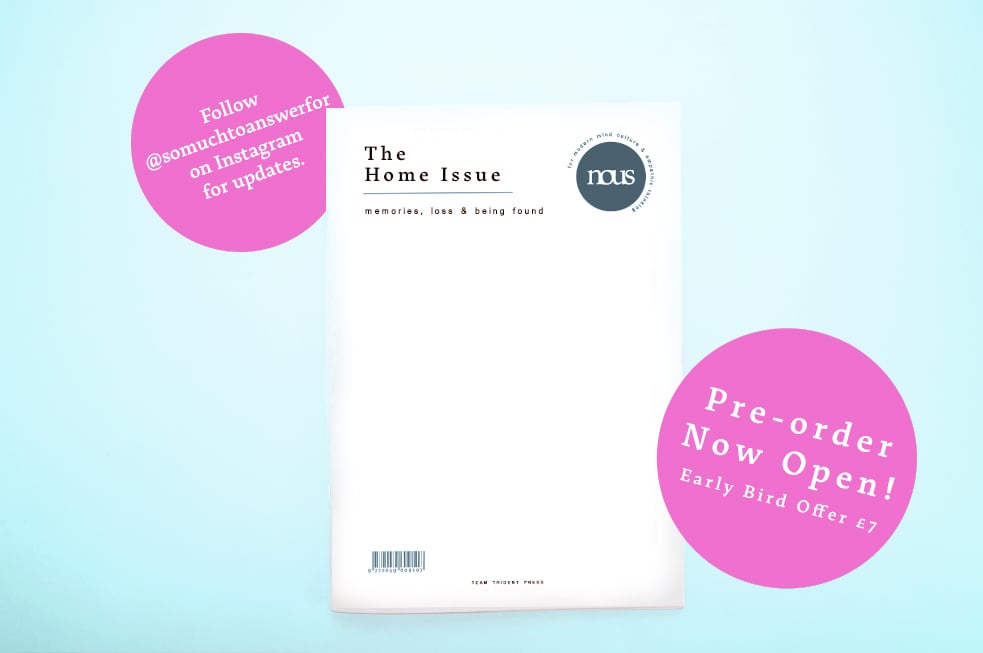 THE HOME ISSUE - an introduction
Out in March 2018 - For shipping to Europe please select Germany. :)
The forthcoming ninth edition of NOUS will be all about home. 
Our authors will explore the topic touching issues such as homelessness, memory, culture and identity. Finding our way to this issue of NOUS has taken us a long time:
We've been exploring what home means to us ourselves, thinking about what it means to belong to a place we call home. Is it being with our friends we share precious memories with? Is it the place where we grew up? Is it our language, traditions, or daily routine? Is it a feeling we can carry within? Being confident in who we are and where we want to go, is this our home? Or can we only truely feel home in a specific place, irreplacable?
On our travels and in our home town we've been confronted with the brutal reality of the housing crisis in the U.K. and precarious living conditions of people in cities of the American West Coast.
By taking part in the Manchester Sleepout in November 2017 we, and everyone who donated for our fundraiser, supported Manchester's Booth Centre, a local charity helping rough sleepers and fellow citizens threatened by homelessness back on their feet and into housing. Meeting some of the service users and hearing their stories was a heartfelt and challenging experience, the conversations spiralling from the event inspirational and encouraging.
This new edition of NOUS magazine is here for you to reflect yourself on the meaning of home. Home as a currency? Home as a chance for international collaboration and kinship. We're here to lay it all out, you're there to build your own.
Share